208-A, Patliputra Colony , Patna, Bihar 800013, India
SimplifyCareer is Bihar's leading Soft Skills training institute, helping students and professionals to improve their soft skills such as communication and personality which makes them confident to face the world.
Available Courses:
Bank Interview Preparation
Job Readiness Program
Communication Skills
Corporate Training
Monday
10:00 AM - 6:00 PM
Tuesday
10:00 AM - 6:00 PM
Wednesday
10:00 AM - 6:00 PM
Thursday
10:00 AM - 6:00 PM
Friday
10:00 AM - 6:00 PM
Saturday
10:00 AM - 6:00 PM
In our annual survey of 2020 (based on search history, clicks and feedback) SimplifyCareer was adjudged the Best Coaching institute for Interview Preparation in Patna-Bihar.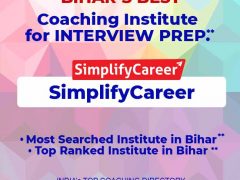 Excellent trainers at SimplifyCareer helped me a lot to prepare for the IBPS PO interview.
Sorry, there were no items that matched your criteria.