HRD ministry launches SHREYAS: to provide apprenticeship opportunities quickly to fresh graduates.
They will get industry-specific apprenticeship opportunities from industry experts. The youth will be better polished for procuring good employment opportunities. Education with skills is the need of the hour.
This promotion scheme will help the students become skilled, employable and aligned to the country's economy needs. This will help them procure good jobs.
DETAILS:
SHREYAS- stands for  Scheme for Higher Education Youth in Apprenticeship and Skills.
It is the initiative of three central ministries
HRD, Ministry of  Skill Development and Entrepreneurship and Ministry of Labour and Employment
It is only for people pursuing a degree course and who have opted for non-technical courses. This will help to provide them with employability skills while studying.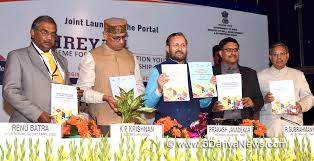 This will promote apprenticeship as an important part of education
Also Read-Chinese Government Scholarship 2019-2020
With the SHREYAS portal both educational institutions and industry personnel can log in and provide their respective demand and supply of apprenticeship
Pre-specified eligibility criteria will be used to select candidates for apprenticeship.
The apprenticeship courses will be available from academic year April- May 2019.
40 higher education institutions have already been tied up for taking the apprenticeship scheme
The National Career Service will be linked with colleges
Students will get a monthly stipend of 6,000, and the apprenticeship will be for 6-10 months depending on the skill.
After completion of the apprenticeship, there will be an evaluation test.
Successful students will get skill certificates along with the degree.
-Dr.PREETI TALWAR