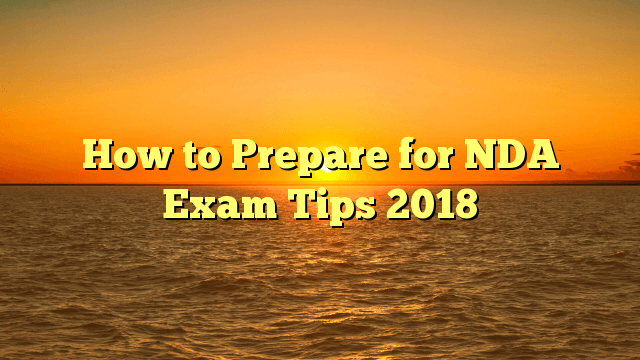 There are thousands of aspirants who dream of going into defense services. That can be military, air force or navy.  To achieve your goal, you need to clear NDA exam.
It consists of written part and interview. So, here are some tips to prepare for them very easily.
The written exam is in the form of MCQs from Mathematics, English and General Knowledge.
MATHEMATICS: – Questions from a 12th standard like- Algebra, Ration and proportion, Geometry, Profit and Loss etc.
ENGLISH: – It consists of grammar-related questions, article writing, synonyms etc.
G.K.:– As it is a very vast topic, questions can come from anywhere but keep reading newspapers for current affairs. You should have good knowledge of history.
To prepare for Maths and English:-
Solve previous question papers,
As this exam includes negative marking- 0.25 for each wrong answer, then try not to attempt unknown questions while practicing also,
For Maths, learn shortcuts as this will help you in saving time,
For English, improve your vocabulary as much as you can as exam checks your spellings.
Must Read-How to prepare yourself, before an exam
Now, something about the interview:-
This is not a one-day procedure but takes 6-7 days. In these 6-7 days, they will check your physique, take your word association test, situation reaction test, group discussion on any topic,
You should have very good knowledge about your native place,
Officers can take your writing fast test in a cold climate to check your climate management techniques. So, it is better to be prepared for all climates,
Officers will definitely try to confuse you, they will shout at you to check your confidence. For this, think about every question calmly and have confidence in your mind,
They ask you why you want to be in defense services. On this, be honest; don't say anything just to impress them.
 I hope, these tips will help you. Be prepared completely and get selected for defense services!