10 Qualities of Successful Teachers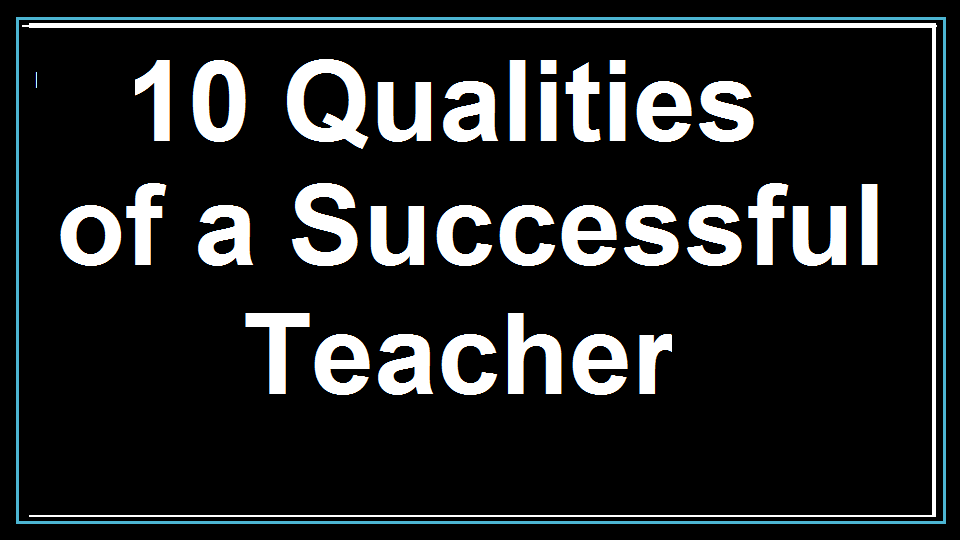 The skills needed for effective teaching involve more than just expertise in an academic field. Teachers must be able to communicate with the students and help them grow and become good human-beings… This is not an easy job! Although there are many different ways to teach effectively, successful teachers have some extraordinary qualities which give them an edge over other teachers. They are well prepared, have clarity regarding their expectations, have a positive attitude, are patient with students, and assess their own teaching on a regular basis. They are flexible with their teaching methods to fit both the students and the material, recognizing that different students have different learning capacities. A teacher is a role model who sets the tone for the class. Teachers who are able to show enthusiasm and commitment, their students are more receptive. On the other hand, if a teacher has a negative approach, is unprepared, or impatient, these qualities will be reflected in the attitudes of their students.
Let's discuss these 10 Qualities of Successful Teachers in detail:
POSITIVE:
Teachers who keep their students engaged with a positive attitude. Teaching is most effective when students are motivated by the desire to learn, rather than by grades or degree requirements. Teachers who treat their students as friends, not adversaries are successful. Learning and teaching are challenging, but that doesn't mean that you can't have fun in the classroom. Teachers who remain focused, and are not afraid to be creative and innovative. Teachers who are enthusiastic to impart knowledge by making their subject interesting are successful.
PREPARED:
Teachers who are well versed with their subject can make successful teachers. Teachers who review key concepts and ideas if they are unclear about them, particularly if it has been a while since they have worked with the topics they will be teaching. Successful teachers do their home-work well and formulate a strategy to deliver their lectures. They tend to prepare their overheads, diagrams, handouts and other aids well in advance. They don't wait until the morning of the class!
ORGANIZED
Teachers who plan in advance what they want to teach. Those who illustrate the main points and essential context,  of the course. As there is never ample time to teach everything only those teachers who have set a clear goal help students learn well.
CLEAR
Successful teachers can explain complex ideas in simple ways. They devise effective methods like visual aids such as diagrams, drawings, charts, slides, etc.!
ACTIVE
Teachers who help students to keep their thinking cap on. Classroom activities and interactive sessions do the trick.
PATIENT
Successful teachers give students time to process information and answer questions. They let students make mistakes and learn from them. Patience pays and students grasp better.
FAIR
Successful teachers are unprejudiced and treat each student equally, which helps them bloom
GOOD MANAGEMENT SKILLS
A successful teacher has good classroom management skills and can ensure good student behaviour, effective study and work habits, and an overall sense of respect in the classroom.
High Expectations:
A successful teacher has high expectations from the students and encourages everyone to always work well.
Must Read-How to start coaching classes in India
SENSE OF HUMOUR:
A successful teacher will have a sense of humour, who will joke with her students and ease the tension in a class. A happy class will exude positive vibes and the learning would be a fun process.
Effective Discipline Skills
A successful teacher is a great disciplinarian and can promote positive good behavior in a classroom.
A teacher with all the above qualities has the making of a successful teacher.