Pet Grooming as a Career | Dog Grooming
PET GROOMING AS A CAREER
Early man to the modern man has always loved interacting with animals and keeping them as pet animals. Animals are good companions for man and help them get rid of loneliness. Making a career in animal grooming is a great profession which can give a person peace of mind and satisfaction. So a pet groomer's job is to bathe, brush, trim and provide proper healthcare to pet animals.
EDUCATIONAL QUALIFICATIONS
No specific educational qualification is required. Pet groomers can learn the nuances through training being held online and through some vocational schools. Most pet groomers learn the skills through on-the-job training. The experience of pet groomers holds more importance than formal training. Skilled groomers have in-depth knowledge about the various animal species and their body anatomy. Pet groomers who intend to own their own pet salon must do a course in business management with a specialization in finance or marketing. This course will be an asset for people wanting to set up their own business in pet grooming.
SKILLS NEEDED
Patience and a genuine love for animals is an essential requirement. Keeping high standards of hygiene and professionalism. Giving good customer service is essential to build one's clientele. Pet groomers who aspire to have their own grooming store should have acquired the human resource management skills to manage resources. They should be hard working, with loads of stamina to work for long hours at a stretch. The pet groomers should have lots of strength to lift and carry animals.
TYPE OF WORK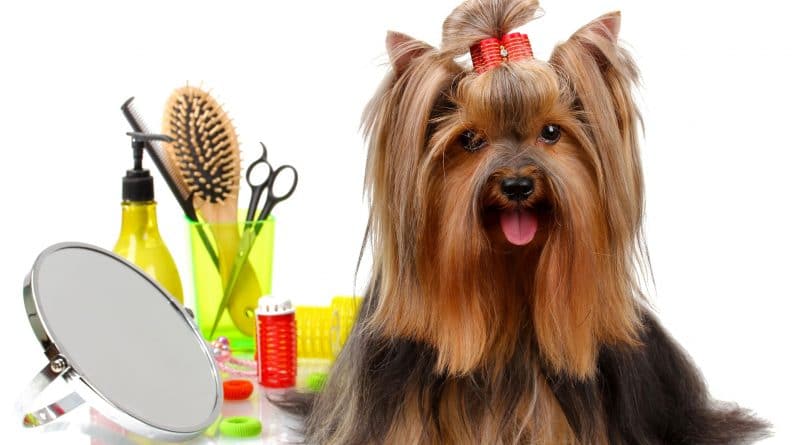 It is a challenging job as dogs, cats and other pet animals are nervous and uncooperative during grooming procedures. One has to be patient and understanding to handle these animals. The pet groomer must have thorough knowledge regarding animal breeds, should develop expertise in nail clipping, bathing, shampooing and trimming of the animal. Clipping nails, cleaning ears, examining animals for fleas, ticks and health problems are a part of their work. They have to be proficient in the variety of brushes, combs, electric clippers and grooming shears. Dressing up pets for birthdays and shows is a part of their job. They have to guarantee a client to keep their pet healthy and safe.
CAREER SCOPE
It is a new concept in India but is gaining a lot of popularity. Pet lovers are spending money exorbitantly for grooming and pet shows. Pet groomers can work in kennels, veterinary clinics, animal shelters and pet supply stores. They can open their own salons with their expertise. They can start boarding services for pets. Pet groomers can work for animal salons, they can give their services to animals during animal events and competitions. They can provide door to door pet grooming service. Pet groomers can give lectures on grooming and maintenance to clients.
SALARY
Pay packets depend on the experience and expertise of the groomer. Self-employed groomers charge per hour, according to a size of a breed and the type of work involved.
Freshers can earn from 10,000-25,000 per month if they can build a good clientele.
Pet groomers can join organizations like PETA as an animal activist and can earn well.
---